There are three easy ways to reach us:

TELEPHONE
Call us toll free at 1-800-696-2839
We're available Monday–Friday 9AM–5PM and Saturday 10AM–2PM



EMAIL
Email us at sales@ambianceadditions.com or complete our Inquiry Form



VISIT OUR SHOWROOM
View full-sized sunroom models on display at our showroom located at

765 So. State College Blvd., Suite I
Fullerton, CA 92831

Hours:
Monday–Friday, 9 am – 5 pm
Saturday, 10 am – 2 pm
Evenings by appointment

CLICK HERE for a map and directions to Ambiance Additions' Showroom
Note:
A full closure of the intersection of State College Boulevard and E. Valencia Drive will begin on January 9, 2015. The closure will be in place until approximately summer 2017 to allow crews to build the new bridge. Designated detour routes (see map below) will be in place during this closure. Business access will be maintained.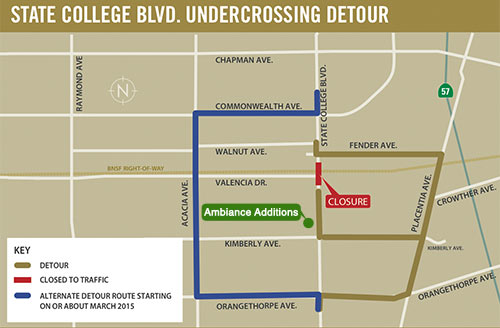 Ambiance Additions serves Los Angeles, Orange, Riverside, and San Bernardino Counties.