This room addition is an exquisite example of European design combined with modern material and methods.
The Georgian Conservatory with its squared corners and hip style roof emphasizes the unique roof design common to our Victorian Conservatory but still maximizing floor area. The steeply pitched roof ensures a superiorly spacious feeling inside.
Of course the attention to the fit and finish inside the room is of paramount importance therefore casement wood windows and white pine trim are standard on this beautiful sunroom. Of course, the lumber arrives unfinished and is finished to customer specification of the site stained/painted, whitewashed etc…whatever your requirements the Georgian is a beautiful choice.
Model: Elegant Living System 8 Wood Sun and Stars Georgian Conservatory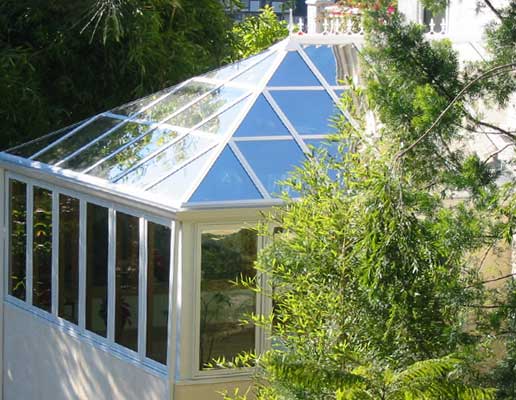 Home | Four Seasons Sunrooms | Why Sunrooms | Sunroom Gallery
Patio Enclosure Product | Patio Design Steps | Patio Room FAQs | Room Additions
Conservatory | Warranty | Sunroom Windows | Contact Us | Site Directory