Truly bring the outdoors indoors with our 230 Sun and Stars Straight Eave sunroom/patio room/patio enclosure. This sunroom offers tremendous flexibility, variable roof pitch, projection and lengths are available Options such as 12' sliding quad doors for maximum open areas and ventilation which are ideal for entertaining!
Roof options that include fixed or operable skylights are just 2 of the roof options available.
Our 230 Sun and Stars sunrooms are used for just inclosing an outdoor patio or deck for year round use or extending an existing kitchen for a perfect breakfast nook. Not to mention as an ideal game room addition to any home.
Model: 230 Sun and Stars Straight Eave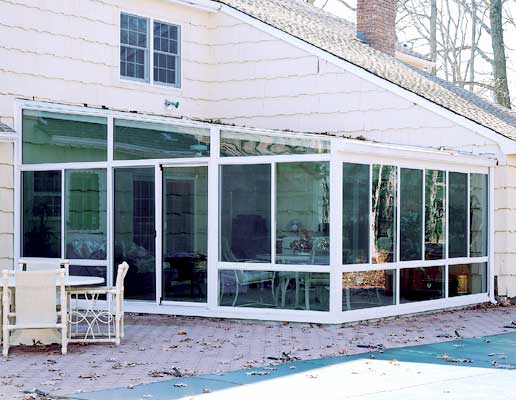 Home | Four Seasons Sunrooms | Why Sunrooms | Sunroom Gallery
Patio Enclosure Product | Patio Design Steps | Patio Room FAQs | Room Additions
Conservatory | Warranty | Sunroom Windows | Contact Us | Site Directory